BECKY SHARP
Loading advertisement...
Up next
ARCHICULTURE – Documentary
Cancel
BECKY SHARP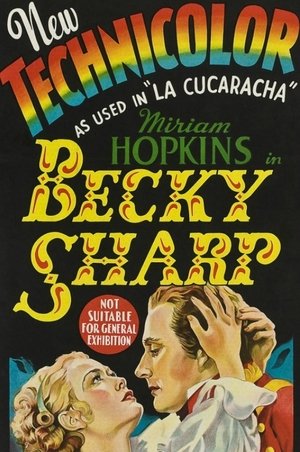 Becky Sharp
Overview
The first feature length film to use three-strip Technicolor film. Adapted from a play that was adapted from William Makepeace Thackeray's book "Vanity Fair", the film looks at the English class system during the Napoleonic Wars era.
Cast
Miriam Hopkins
Frances Dee

Cedric Hardwicke
Billie Burke
Alison Skipworth
Nigel Bruce

Alan Mowbray

Doris Lloyd
Crew
Roy Webb
Rouben Mamoulian

William Makepeace Thackeray
Set against the background of the Battle of Waterloo, Becky Sharp is the story of Vanity Fair by Thackeray. Becky and Amelia are girls at school together, but Becky is from a "show biz" family, or in other words, very low class. Becky manages to insinuate herself in Amelia's family and gets to know all their friends. From this possibly auspicious- beginning, she manages to ruin her own life, becoming sick, broke, and lonely, and also ruins the lives of many other "loved ones". In the movie we get to see the class distinctions in England at the time, and get a sense of what it was like for the English military at the time of the Napoleonic wars.