WOMAN IN GREEN
Loading advertisement...
Up next
WHAT IS THE FOURTH INDUSTRIAL REVOLUTION – Documentary
Cancel
WOMAN IN GREEN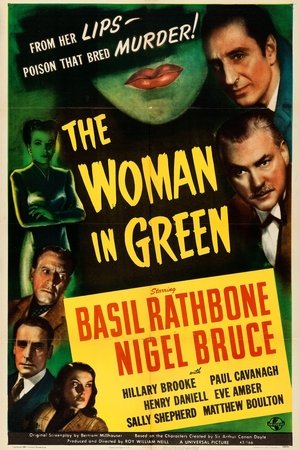 The Woman in Green
Overview
A series of murders of women, each with their right forefinger posthumously severed, leads Sherlock Holmes and Dr. Watson to a mysterious, glamorous woman, a hypnotized assassin, and a blackmail scheme worthy of Professor Moriarty, who is its mastermind.
Cast

Basil Rathbone

Nigel Bruce

Hillary Brooke
Henry Daniell

Paul Cavanagh
Matthew Boulton
Eve Amber

Frederick Worlock
Coulter Irwin
Mary Gordon

Bess Flowers

Kay Harding

Olaf Hytten

Boyd Irwin
Eric Mayne

William H. O'Brien
Crew

Virgil Miller
Roy William Neill
Roy William Neill
Arthur Conan Doyle
Sherlock Holmes investigates when young women around London turn up murdered, each with a finger severed. Scotland Yard suspects a madman, but Holmes believes the killings to be part of a diabolical plot.